ປະກາດຮັບສະໝັກພະນັກງານ ໂຄງການ ລພຊ 3 ຕໍາແໜ່ງ, ທ່ານໃດສົນໃຈສະໝັກໄດ້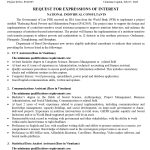 ປະກາດຮັບສະໝັກພະນັກງານ ໂຄງການ ລພຊ 3 ຕໍາແໜ່ງ, ທ່ານໃດສົນໃຈສະໝັກໄດ້
The Government of Lao PDR received an IDA loan from the World Bank (WB) to implement a project entitled "Reducing Rural Poverty and Malnutrition Project (P162565). The project aims to support the design and implementation of a nutrition-sensitive social assistance program to improve nutrition behaviors, and enhance the convergence of nutrition-focused interventions. The project will finance the implementation of a nutrition-sensitive cash transfer program to address poverty and malnutrition in 12 districts in four northern provinces: Oudomxay, Phongsaly, Xiengkhuang, and Houaphan.
Department of Rural Development now invites eligible individual consultants to indicate their interest in providing the Services listed in the followings:
1.CCT Assistant (Base in Vientiane) The minimum qualifications requirements are:
•At least bachelor degree in Computer Science, Business Management or related field
•At least one (1) years of experience in Administration, technical accounting and finance assistant.
•Quality assurance procedures to ensure good quality of information collected. This includes consistency checks and validation routines in data capture.
•Computer literacy: word processing, spreadsheets, power point and database application.
•Good English communication skills, written and spoken.
2.Communications Assistant (Base in Vientiane)
The minimum qualifications requirements are:
•Bachelor's degree in the fields of Social Science, Anthropology, Project Management, Business Administration, and Social Marketing, Communication or related field.
•At least 2 years of work experience related to project implementation, including communications and knowledge management, capacity-building, and social development, on large-scale government or donor-delivered projects. Experience in nutrition interventions in rural areas, GEDSI (gender equality and Social Inclusion) and/or in World Bank-supported projects will be an asset.
•Demonstrable track record in working with government and other stakeholders, with the ability to work within multi-faceted teams to tight deadlines.
•Proficiency in English and Lao, with excellent writing skills and ability to present content in a concise, yet comprehensive manner. Knowledge of dialects used in the convergence project areas is an asset.
•Proficiency in MS-Office suite, Affordable illustrator, CorelDraw, Photoshop, Video maker software, and Social media platforms.
3.Statistical Data Analyst Assistant (Base in Vientiane)
The minimum qualifications requirements are:
•At least Bachelor's in Computer Engineering/Computer Science or in equivalent field is preferred.
•At least 3 years of professional work experience in the area of Information Technology (IT).
•Experience of working as an Statistician, survey support (preferably in public sector organizations).
•Experience support for Android application for mobile devices.
•Experience with the following application software: SPSS, STATA, Tableau, Power BI;
•Lao communication and Basic English skills, written and spoken.
The successful consultants will be selected in accordance with the competitive method of individual consultant set out in of the Procurement Regulations, dated July 2016, revised November 2017 and August 2018.
In order to apply for the positions, interested applicants should be provide information indicating that she/he is qualified to perform the services (description of experienced similar assignments on Expression of Interest) and detailed CV to Ms. Bouakham THONGCHANH, Procurement Officer. Email: buakham3450@gmail.com and Cc: phonhchittabounty@gmail.com Tel: 030 5071816. Address: Department of Rural Development, Ministry of Agriculture and Forestry, Ban Sibounheuang, Saysettha District, inside the Prime Minister complex, Vientiane Capital, Lao P.D.R. Consultants may obtain copies of the detailed Terms of Reference (in English) for assignment from the address above during office hours from 08:00 to 16:00 hours, from Monday to Friday (Lao PDR time) by postal mail or e-mail by 23 Feb 2023. Only Short-listed candidates will be contacted.